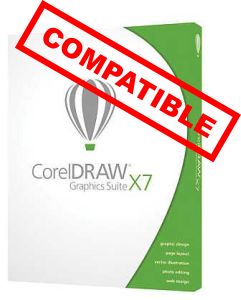 Request to re-activate the plugin you can make here.


What is eCut?
This remarkable add-on for CorelDRAW allows many advanced utilities for computer designers who work with Vinyl, CNC machines, or laser cutters.
It is compatible with any system, where full version of CorelDRAW (X3, X4, X5, X6(32/64bit), X7(32/64bit)) with VBA is installed. (XP, Vista or Windows 7/8).
Home&Student version is not supported!

eCut has more than 40 different functions which include invaluable aids with the design of outdoor signs, light boxes, neon and LED signs.

New coding with this new version has made the user interface more user friendly.

Performance of some of the most used functions has been enhanced such as nesting and cut/plot functions.

eCut - Is a separate DLL, and you can launch it two ways: using Add-in manager, or using GMS + command bar.


Main areas of application.
Below I will describe the main uses of the program, and what features you should pay attention to each case. eCut is powerful tool, and of course, you must be able to use it, because sometimes people do not realize how useful functions can be! Their indirect use can also open up new possibilities of the program!
eCut application.
Listed below are some of the powerful uses of the program, and what features that you can avail of in this very powerful program. eCut is a very powerful tool with many inbuilt features. Only by exploring the features and options will you get an appreciation of the functions available and how they can assist you in your productivity. You might be surprised with your experimenting how valuable some of these functions are and possibly open up new avenues with your business.
Milling and laser cutting. Work with CNC machines.
Of course, the most important function are nesting and perimeter calculation. And, oddly enough, is the construction of a composite boxes, combining some of the most common methods of milling.
In addition to nesting, I would like to draw your attention to a clever division.
It is also very interesting feature - delete duplicated edges. It allows to process files for the rectangular cutting.
If you own a machine with native software, which eats only DXF format, you'll need DXF export feature.
Plotter cutting.
With more than 10 years of experience in outdoor advertising, and the same directly to the plotter, I want to note the following - eCut irreplaceable!
Nesting, Cut/Plot, perimeter calculation, cost calculation, time calculation, weeding lines - these features I would include in MustHave category.
Intersections and dupliacates searching - these features will simply need to work with the artworks prepared by emerging designers.
Separate shape, simplify curve , remove duplicated edges - just useful features that automate and optimize the performance of the plotter and operator.
Set of effects - especially suitable for the preparation of some effects for vinyl cutting.
Large letters and light boxes.
First of all it is LEDs and Neon. These functions will be invaluable assistance in the design and calculation of illuminated signs. I note only one point - functions are advisory in nature, that is, nothing replaces experience of human, but to estimate the estimated cost of the work they will help 100%.
Edge roll - very powerful tool for the construction of the side walls of channel letters.
To create applications for the light boxes, I would like to pay attention to the Effects - trim. This function enables you to create a layout for cutting the lightbox with the overlap of colors (to avoid white light where two colors joined).
CAD functions and design.
To design and build all sorts of schemes, eCut has several useful functions: draft, pick angle, align, nodes editor, paths editor, mirror, isometric, DXF export.
See aloso...



Functions list



Nesting




Cutting and Contour Cutting




Perimeter




Area




Cost




Time




Weeding lines




Rectangle nesting




LEDs




Neon




Draft




Central line




Smart divide




Pick angle




Connect opened paths




Fillet curve




Find intersections




Find duplicates




Pick by outline




Pick by fill




Create SignBox




Create lines




Create grid




Create cropmarks




Reduce nodes




Break apart




Find inside container




Effects




Edge roll




Separate curve




Remove duplicated edges




Slice object




Eyelets




Create boundbox




Align and Distribute




Search by size




Set size




Nodes editor




Curve editor




Mirror




Isometric




Replace




DXF Export




Reference scale




Create bridges